Prof. Qing Wang
Sampling Spatial-Temporal Variability of Electromagnetic Propagation in CASPER-West

Naval Postgraduate School, Monterey, USA



Biography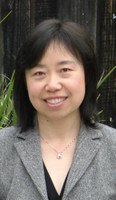 Qing Wang received the B.S., M.S. degrees in Atmospheric Physics from the Peking University, Beijing, China in 1985 and 1988, respectively, and a Ph.D. degree in meteorology from the Pennsylvania State University, State College, in 1993. She was a postdoctoral fellow with the Advanced Study Program (ASP) at the National Center for Atmospheric Research (NCAR) between 1993 and 1995. Since 1995, she has been with the Naval Postgraduate School, Department of Meteorology, where she is a professor and associate chair for research. She is known for her contributions to the understanding of marine atmospheric boundary layers through aircraft and ship/buoy-based measurements and using these observations to evaluate forecast and process-oriented models. She currently directs several multi-disciplinary and multi-institutional projects on quantifying the effects of the lower atmosphere on the propagation of radio waves and optical systems.
Dr. Wang is an elected Full Member of URSI, Commission F. She has served on several subject area committees of the American Meteorological Society including Boundary Layer and Turbulence Committee, Coastal Processes Committee, and Air-Sea Interaction Committee.

Synopsis
The Coupled Air-Sea Processes and Electromagnetic ducting Research (CASPER) is a multidisciplinary research initiative aimed at quantifying electromagnetic (EM) ducting and the associated atmospheric processes. The project involved two field campaigns on both coasts of the US. Coordinated measurements among research vessels/platforms and at the shore were made in both field campaigns resulting in a large amount of data for both the atmospheric environment and EM propagation. This paper presents a general overview of the second field campaign, CASPER-West and the ducting conditions encountered during the field campaign.  Examples of the measured propagation are also given.


Q. Wang1, R. J. Burkholder2, C. Yardim2, D. P. Alappattu1,3, K. B. Franklin1, R. T. Yamaguchi1, A. M. Hook1, L. T. Rogers4, K. L. Mulreany5, D. G. Ortiz-Suslow1, J. A. Kalogiros6, B. J. Wauer1, and A. J. Olson1
1Dept of Meteorology, Naval Postgraduate School/NPS, Monterey, CA, USA, qwang@nps.edu
2 Dept of Electrical and Computer Engineering, The Ohio State University/OSU, Columbus, OH, USA
3 Moss Landing Marine Laboratories/MLML, Moss Landing, CA, USA
4Space and Naval Warfare Systems Center, San Diego, CA, USA
5Naval Surface Warfare Center Dahlgren Division, Dahlgren, VA, USA
6National Observatory of Athens, Athens, Greece